All-in-one Data Acquisition, Logging, & Visualization
The MangoES is a cost-effective, multifunction gateway and server that allows buildings and industrials system bi-directional secure connectivity to a centralized cloud. With a multitude of functions, the MangoES is the ultimate integration tool for both cloud and stand-alone applications in a plug and play appliance. The MangoES runs the full Mango Automation software application and comes with all features and no extra license cost.
Included functions:
Cloud connected IIoT gateway

Protocol converter

Data logger

Web HMI

Centralized remote device management
Device overview:
Secure cloud connectivity

Data buffering with reliable real-time & historical syncing to the cloud

VPN style connectivity for easy device management

Edge analytics and data processing

Local protocol conversion

REST API
Open Architecture
Designed for OEM's and System Integrators, the MangoES is fully customizable, very cost effective, and includes all the Mango features and modules at no extra cost. Being a Linux server, users are given root access and can extend the MangoES to host their services as well or take advantage of the numerous Linux tools included.
Applications
The MangoES is the perfect choice for small to medium standalone or edge applications with less than 3000 data points and less than 10 users. There is a din rail clip on the back of each MangoES for easy mounting directly in a control panel.
Remote Site Monitoring & IoT
The MangoES combined with a Mango Automation Enterprise or Cloud server offers unified remote system monitoring and control. Each MangoES seamlessly syncs realtime and historical data to the central server.
The MangoES is a highly configurable data acquisition system pre-installed with drivers for Modbus, BACnet, SNMP, HTTP and Many other protocols.
With multiple options for disk storage the MangoES can store up to 2 billion historical readings. With it's powerful built in Time Series database it is fast and efficient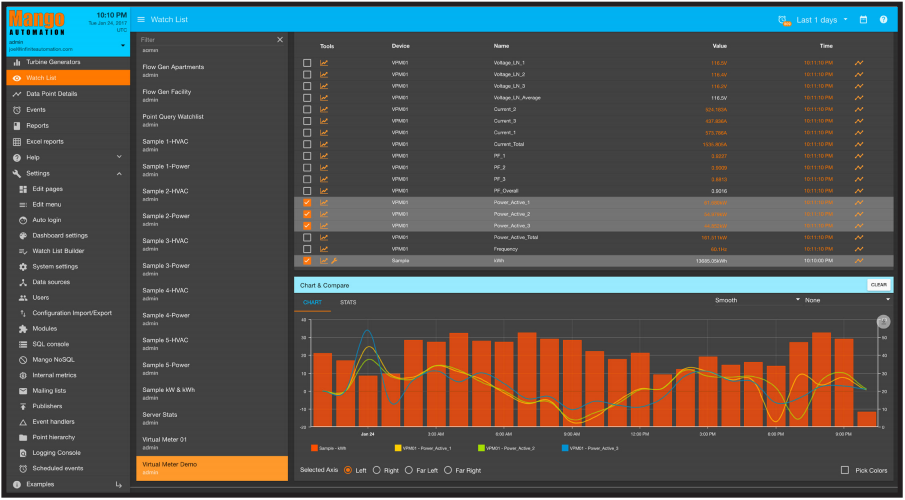 Web Server & Visualization
The build in web server allows full access, configuration and control with a standard web browser. Custom HTML Dashboards and HMI screens can be created with the modern, mobile friendly development framework. The included RESTful API can also be used to integrate into third party systems.
The MangoES can be used as a stand alone device or as a powerful industrial IoT gateway. Capable of high speed local data acquisition the MangoES also contains a powerful cloud syncing protocol to publish its data to a central Mango server. Both real time values and historical synchronizations insure that all data is buffered and sent to the server even though unreliable internet connections or outages.
Remote Access - The Mango Cloud Connect feature allows users to easily manage MangoES's behind customer firewalls from one central location. Learn more
Easy IP Address Configuration - The MangoES comes with a USB utility that can be used to configure network settings to static or DHCP and do other diagnostics. Just edit the configuration files on a laptop and then plug into the MangoES and it will configure it's self.
Developer and Integrator Friendly - The MangoES is a fully capable Linux server running Debian based Linux. You are provided root access and the ability to customize, install additional software or configure the system. A RESTful API allows integration into third party systems.
Data Source Protocols:
Modbus IP

Modbus Serial

BACnet IP

BACnet MS/TP

HTTP

SNMP

SQL

ASCII File

Generic Serial

Generic TCP/IP

SSH

Z-Wave

POP3

DNP3

Data Files (XML, CSV, XLS, Binary)

Allen Bradley (extra fee)

Mango Cloud Sync
Hardware Specs:
Processor: 2 ARM Quad Core 2.0GHz & 1.5GHz

Ram: 2GB

Disk Type: High Speed eMMC Flash

Disk Size: 8, 16, 32 or 64GB

Power Input: 12-24 DC

Mount: Built-in Din-rail Clip on Back

Dimensions: H 2" x W 4" x D 5"

I/O: Two USB, Built In RS-485 port, full size HDMI
Publisher Protocols:
HTTP

Modbus IP (Slave)

BACnet IP (Slave)

Mango Cloud Sync
Logic Automation:
Meta Data Points

Scripting Data Sources

Event Detections & Handling

Point Links